Case Study: How Small Fashion Retail Businesses Are Implementing AI And Ensuring Their Brand's Longevity
Although it is common to hear stories about big-name brands (Macy's, Adidas, ASOS) investing in new technology, and influencing the industry at large, they aren't the only ones at the forefront.
Small fashion retail businesses have also been ahead of the game when it comes to making the jump to AI and other emerging technology solutions, enabling them to compete with bigger companies. This is a jump businesses have made before with the early adoption of e-commerce during the '90s and early 2000s.
Those that transitioned into the e-commerce sphere earlier on were the ones that came out on top as retail leaders.
Introducing the Next e-commerce Boom: AI
Now that the e-commerce business model has become commonplace, businesses are looking for the next big technological breakthrough. Chances are, you've heard of artificial intelligence. Artificial intelligence, or AI, has already, in many ways, forever changed how we interact with our world and with each other.
By the looks of it, AI's industry growth in the fashion industry will continue to skyrocket over the next six years, making its impact on businesses and society even more prevalent.
One (formerly) small retail business adopting AI solutions to its business model is ModCloth. ModCloth, founded in 2002, was an early entrant in the world of e-commerce and found great success due to it being one of the first brands to capitalize on this trend since its inception. Other brands can learn from ModCloth's success and mirror its current implementation of AI.
Small Business Success Story: ModCloth
ModCloth was born in Susan Gregg Koger's dorm room at Carnegie Mellon University. There, she and co-founder Eric Koger created a website to sell the vintage and retro clothing Susan collected from thrift stores. The site later specialized in new, vintage-inspired dresses with bold, throwback fabrics not often found in department stores.
By 2010, ModCloth quickly became one of the largest online independent fashion retailers, with sales reaching $100 million.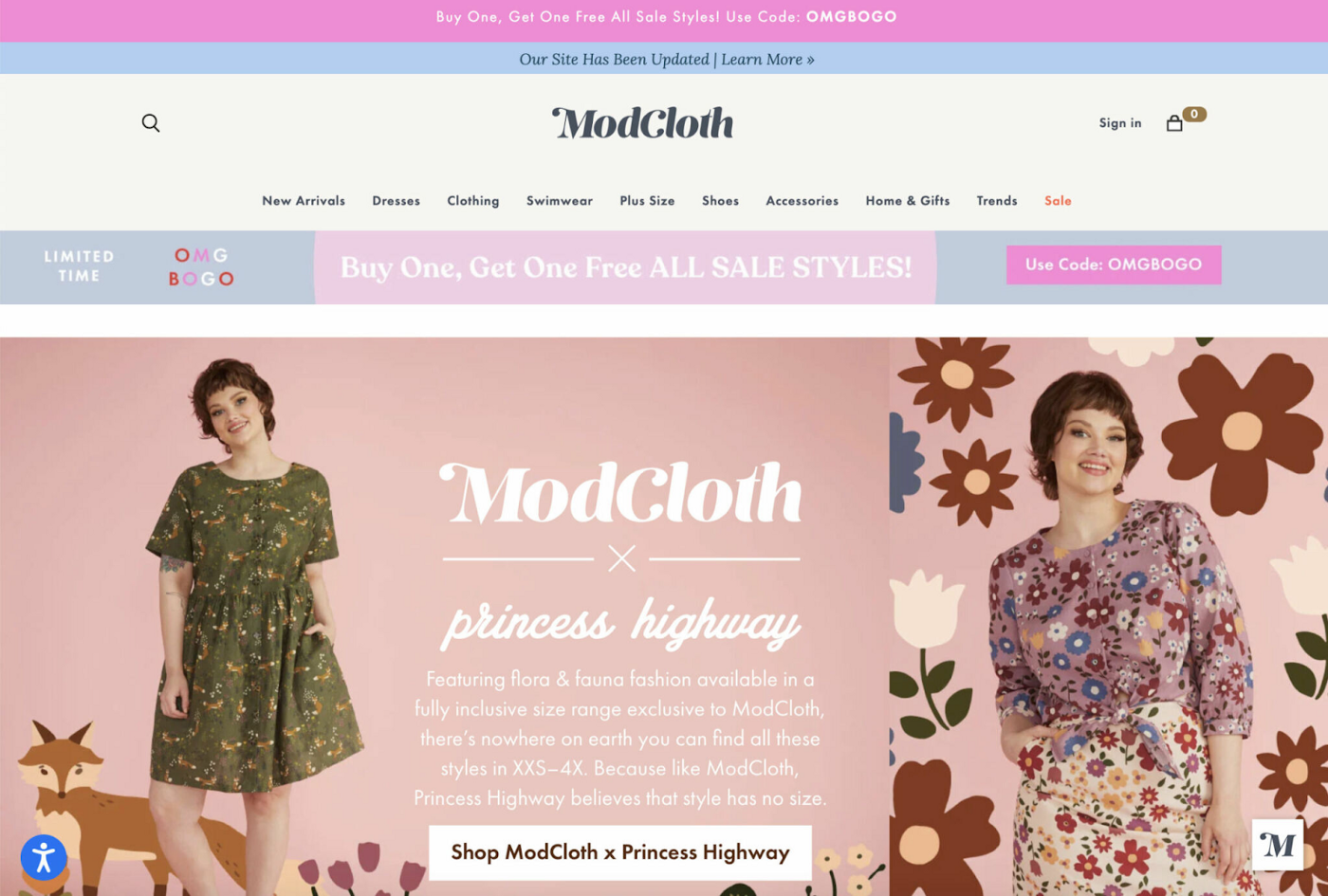 A major reason for the brand's rapid success was its firm understanding of its target market (girls and women ages 15–30) and its ability to recognize what these consumers value in clothes. With a colorful catalog featuring cheerful, diverse, and size-inclusive models, ModCloth advertises and treats each item of clothing as "content" rather than merchandise. Every piece for sale has a special name and description that goes into great detail about the material and intricacies of the item, weaving them together to create a compelling story.
Another major reason for the brand's rapid success was its early adoption of e-commerce in 2002 — a time in which e-commerce was just an early innovation and not as widespread as it is today. Only five years after the brand's initial launch, the e-commerce site had made $1 million dollars in sales and investors.
With Susan and Eric being a part of the first generation of college Facebook users, the Kogers saw the value in engaging with and empowering customers. As one of the early business-to-consumer e-commerce sites, ModCloth created its own shopping experience from scratch and built a loyal customer base with the help of social media. Thanks to its early success with e-commerce, ModCloth was able to expand its reach despite selling a relatively niche style of fashion.
ModCloth's innovative business approach did not stop there. The brand continues to thrive because it strategically reinvents the online retail experience year after year with emerging digital technology. This approach is built into the brand's very foundation. As stated on ModCloth's official About Us page, Modcloth is constantly seeking to reinvigorate its "independent and innovative mindset."
By leveraging AI technology now, ModCloth ensures the company is always looking to the future and not at risk of falling behind.
Current Fashion Retail Landscape: The Apocalypse
More than one-quarter of the global population, over 2.14 billion people, are expected to purchase goods and services online this year, an estimate that also accounts for the ongoing pandemic. As people prioritize their convenience and are more inclined to stay home, this figure is projected to increase with no apparent end in sight.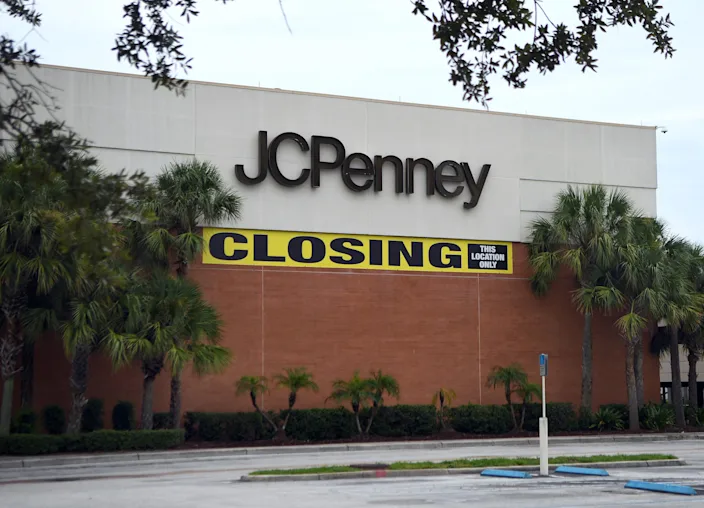 On the other hand, physical retail stores have been under immense pressure. COVID accelerated what has now been coined as the "retail apocalypse." In 2020 alone, a record 12,200 stores were forced to permanently close.
Parallel to the consistent growth of e-commerce is the rising threat of online fraud. Many businesses that are fully e-commerce are able to confront this issue head-on. However, retailers that rely more on their physical locations can't afford to deal with this in addition to the threat of widespread closures.
To rise above the retail apocalypse and combat online fraud, ModCloth is once again leading by example as an early technology adopter — this time with AI. Using AI-powered risk assessment, ModCloth is able to screen customer transactions for potential fraudsters. Along with the rising use of e-commerce, AI's role in the fashion industry is projected to increase by 36.9% over the next few years, reaching $4.4 billion in 2027.
Entering the 4th Industrial Revolution Early: How ModCloth uses AI
The risk assessment algorithm, which is augmented by artificial intelligence and machine learning-based systems, considers and analyzes multiple variables to calculate the likelihood of fraud. These include geographical locations and the range of IP addresses. These AI and ML systems continually learn and get smarter with time and practice, improving their fraud-detection abilities with every transaction and calculation.
Still, with systems like these in place, ModCloth runs the risk of mistakenly identifying legitimate customers as fraudsters, also known as false positives. By mining past analyses for data, ModCloth tries to keep these false positives to a minimum.
The brand has to strike a balance between protecting their customers who have gotten their credit card/gift card information stolen and ensuring legitimate customers are not falsely accused. In doing so, ModCloth can assure their customers' safety and gain their trust as they make their purchases.
Conclusion
ModCloth's risk assessment algorithm is simply one example of how AI has shaped the fashion industry. There are a number of other ways AI has been transforming fashion as we know it from visual searches and automated product tagging for e-commerce retailers to virtual fitting rooms for brick and mortar stores.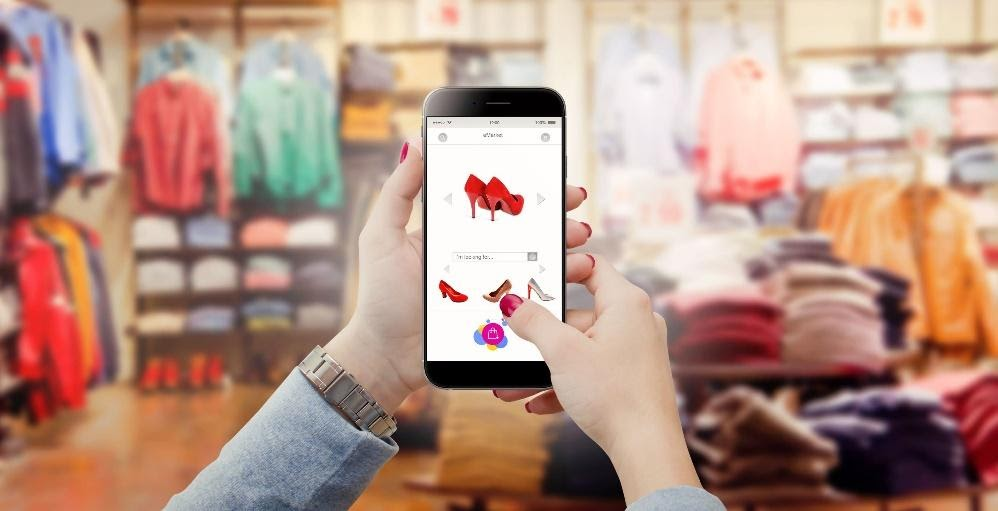 AI can be used to solve multiple problems as well as enhance the retail customer experience by streamlining the product discovery process and providing personalized recommendations.
Brands need to figure out how to seamlessly integrate AI into their business models in order to set themselves up for future success just as they once did with e-commerce years ago.
The sooner brands take action, the more likely they are to excel.
Learn what to expect over the next six years in the fashion industry.