OMNICOMMERCE enabled us to standardize product attributes and optimize our filters. Visual Recommendations also improved our app usability significantly.
- ABLY CEO, Sukhoon Kang -
Problems the company wanted to solve
Improve their erroneous and unintuitive product catalog.
Solve inefficiency arising from simple repetitive tasks.
Optimize the purchase journey by hyper-personalizing vast amounts of product data.
Solution 1. Results after integrating the 'Automated Product Tagging solution'
Strengthened their search engine by providing sub-divided filters to their category.
Improved work efficiency by replacing simple repetitive work with OMNICOMMERCE.
Solution 2. Results after integrating the 'Visual Recommendations'
Automatically classified shoes, bags, and even jewelry from a single image
Satisfied customers with accurate results from visual AI.
---
A rapidly growing mobile shopping application, Ably was struggling to create an optimal online shopping experience for its customers. With a dramatically increasing number of listed products on their shopping platform, this e-commerce retailer was demonstrating the potential to be considered a unicorn in the industry.
<Automated Product Tagging>
Point 1. Added sub-divided filters to their category.
Initially Ably didn't provide filters on their app, which made it difficult for customers to find the products they wanted, resulting in a high bounce rate. Despite the problem, due to the lack of data, it was difficult for them to even implement simple filters like color and length. This increased dissatisfaction among customers and sellers because, except for a very small number of popular products exposed on the main page, it was difficult to buy/sell other products. To solve this problem, Ably started by improving its filter system.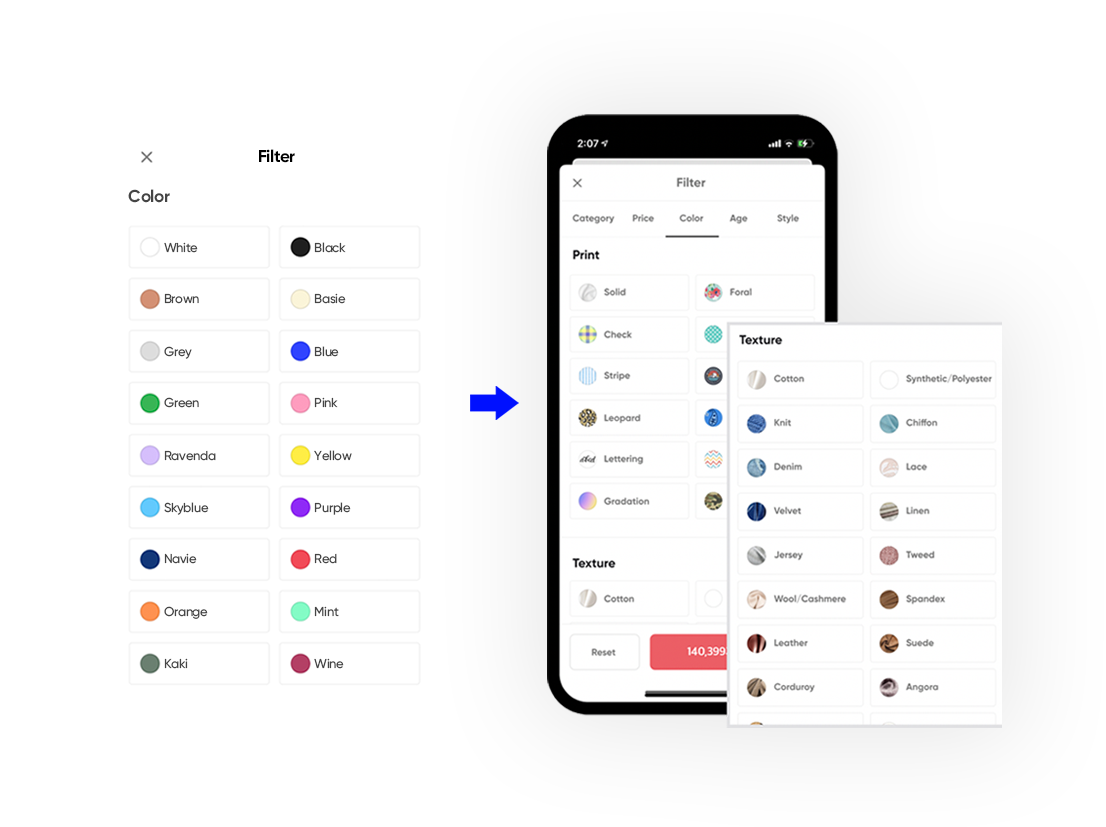 Automatic product tagging using Management API
They tagged attributes and automatically analyzed over 800,000 product images using OMNICOMMERCE, and have built data with very few product attribute errors.
Provide various filters including style, fit, shape, detail, and more.
Ably added a filter functionality within their category based on accurate attribute values, which enabled customers to find the products they want quickly.

Point 2. Minimized simple and repetitive tasks, and improved product recommendation accuracy.
For e-commerce without automated tagging, the only option is to perform tasks manually, which was Ably's case. After successfully automating using OMNICOMMERCE, their work efficiency has significantly improved.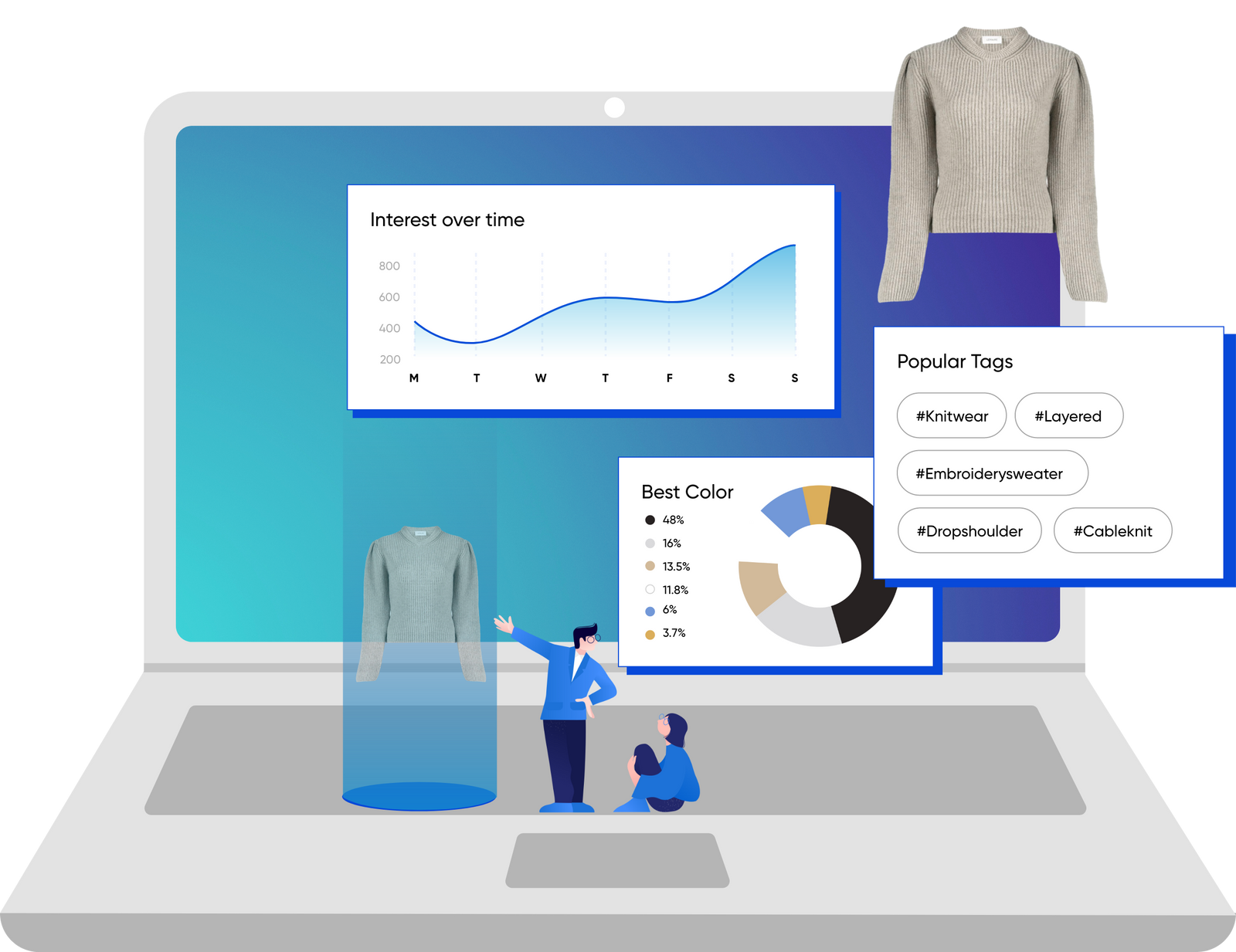 Provide real-time metadata
Before using OMNICOMMERCE, Ably directly asked sellers to provide product metadata to include more tags on the product list. They built a real-time metadata registration system using our solution.
Improve product recommendation accuracy
After automating tagging, there were no more instances of data being incorrect or lost. Previously, there were many cases where unrelated products were recommended due to incorrect attributes. With accurate data, it became possible to recommend products based on users' preferences.
<Visual Recommendation>
Point 1. Integrated the 'Visual Recommendations' solution to provide hyper-personalized recommendations.
In the highly competitive e-commerce market, the goal of all e-commerce is to gain a differentiated competitive edge. To achieve this goal, Ably aimed to optimize the purchase journey by providing a personalized shopping experience. They felt the need for an AI-based hyper-personalized algorithm and decided to integrate OMNIOUS.AI's 'Visual Recommendations' solution to execute the strategy.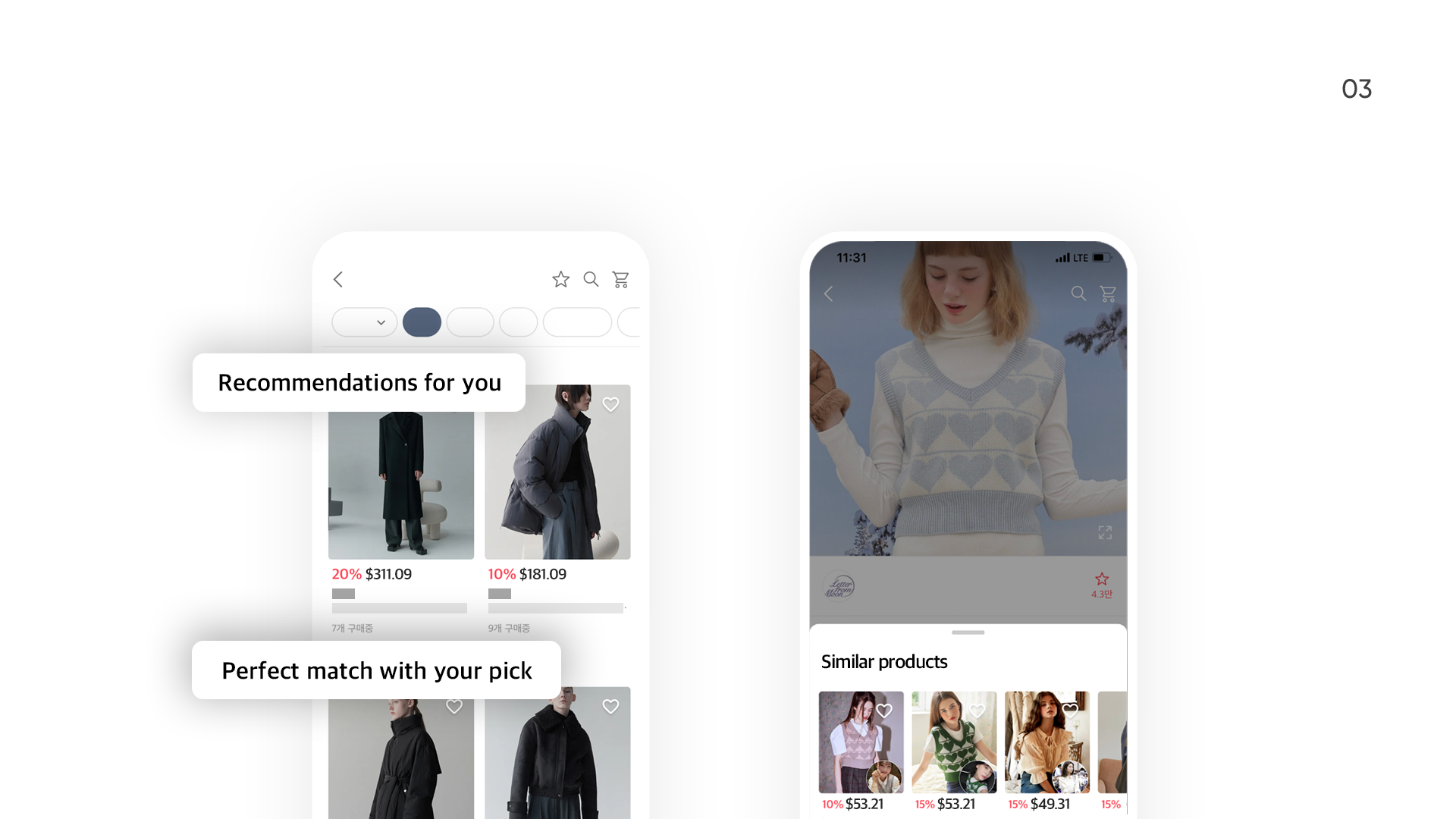 Prevented churn due to out-of-stock items
Even if the product the customers are looking for is out-of-stock, Ably enabled the customers to continue their shopping journey by recommending different similar items.


Increased purchase rate and customer stay time
By recommending similar products to the items the customers want, they encouraged more purchases and increased their stay time.

Point 2. Automatic classification of shoes, bags, and accessories from one image.
Ably wanted to provide their vast amount of product data to meet the needs of their customers. They provided similar item recommendations by using the OMNICOMMERCE solution that immediately identifies fashion items in images including shoes, bags, and accessories.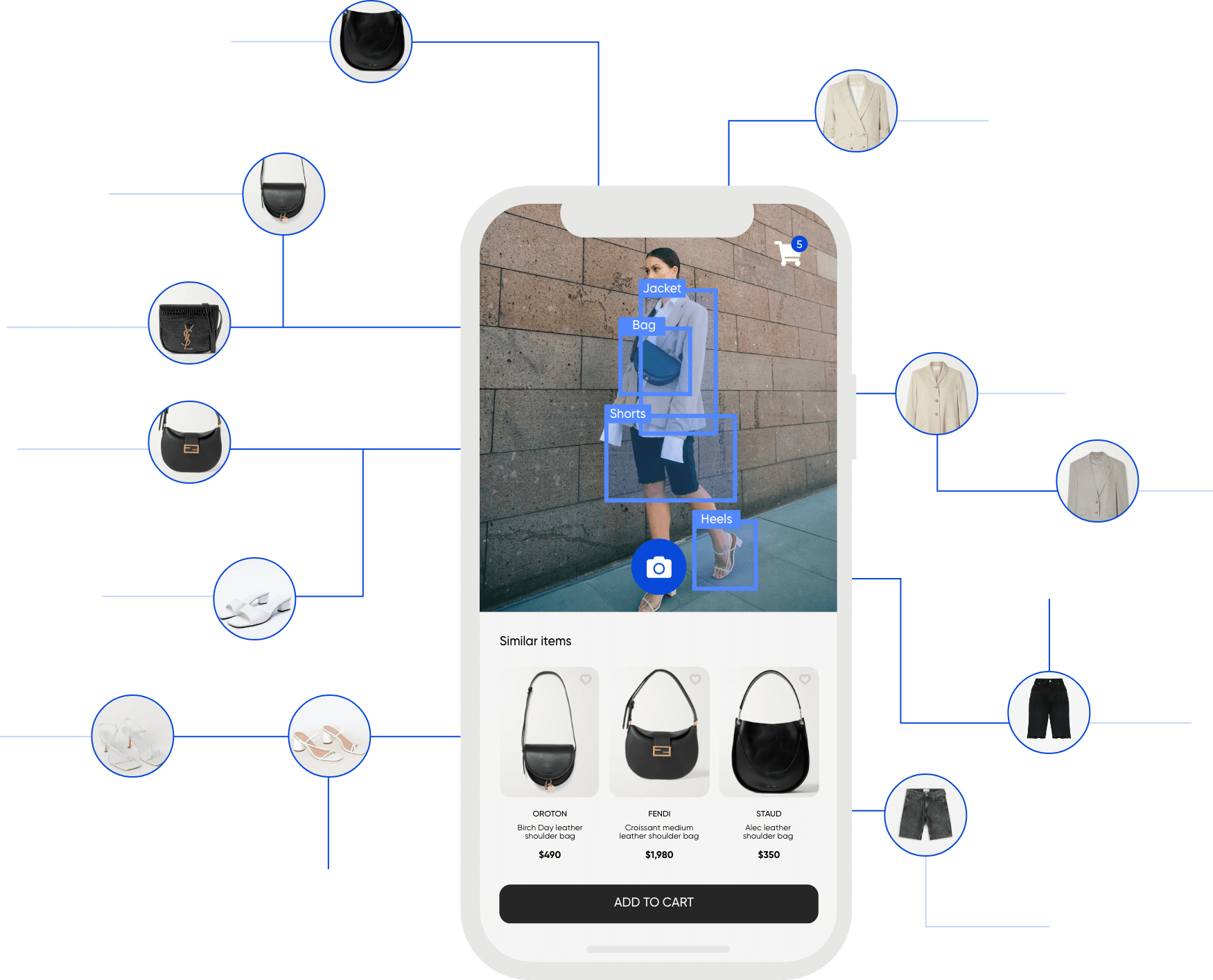 Identifying various fashion products
Ably improved the system using a Visual AI engine that automatically identifies fashion products within images and then recommends similar items. From a single image, they were not only able to identify clothing, but also shoes, bags, jewelry, and accessories.


Point 3. Effectiveness of accurate visual AI experienced by customers.
20/07/21 ⭐⭐⭐⭐⭐
It was pleasing to use this app because of the sheer variety of products and convenience of finding items using product recommendations carousels!
20/07/18 ⭐⭐⭐⭐⭐
It is so easy to find the clothes I'm looking for because they give you similar item recommendations from the search results page!
Above all, 'Visual Recommendations' was said to be the most satisfying factor for Ably customers. Customers left high ratings for the 'Visual Recommendations' feature in Google Play Store, and they expressed satisfaction with the novel and intuitive shopping experience provided by the visual AI.