From an upselling perspective, we recommend various products and use detailed product tag values ​​to show trend keywords or use them in special exhibitions. Thanks to OMNICOMMERCE.
- BABATHE.COM, Tae-eun Kim -
Problems the company wanted to solve
Wanted to create upselling opportunities by recommending products.
Wanted to run programs that recommend personalized styles.
Results after implementing 'Visual Recommendations'
Made it easy to purchase products that customers want by providing similar product recommendations in its expanded mall.
Run 'Baba Care Friend' that's been hyper-personalized with AI.
---
Babathe.com is a premium AI total-care e-commerce. It is also the most successful e-commerce company to expand its mall in Korea.
The company has seen a lot of success by attempting various initiatives like operating its own live commerce 'BabaOn', consistently expanding its categories and onboarding new brands, and hosting promotion events using AI solutions.
The company is continually growing. After expanding its mall, its revenue has increased by over 300%, and its live commerce 'Baba ON' has attracted over 620,000 concurrent users.
Point 1. Similar item recommendations that lead to purchase
Babathe.com initiated the expansion of its mall after catching the trend faster than other brands. To meet its revenue goals, the first thing it did was to expand its D2C mall, and onboard external brands to the platform. The company put special care into providing good product recommendations to improve customers' shopping experience.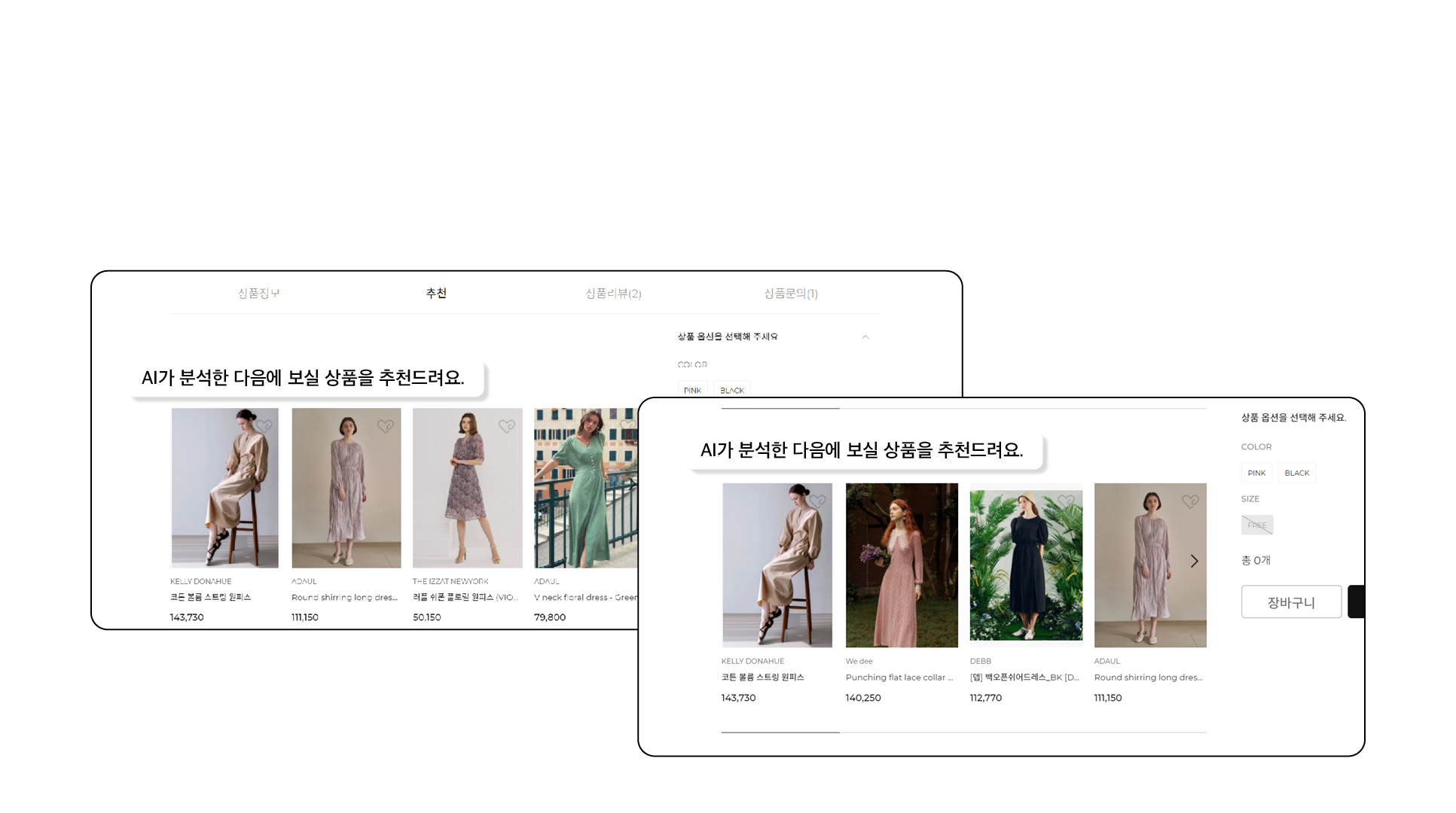 Support in strengthening its D2C mall.
Providing accurate similar product recommendations on top of its rich database significantly increased Babathe.com's page views and was helpful in providing effective recommendations. Furthermore, with the expansion, the company has met its revenue goals.

Point 2. AI program that drives upselling opportunities, CareFriend.
Baba CareFriend is Babathe.com's main hyper-personalization solution where an AI personal shopper recommends products according to various lifestyles.
It integrates AI based similar product recommendations to provide customized style recommendations to create upselling opportunities.

A variety of personalized recommendations powered by AI
Babathe.com has included a separate recommendation tab on the product detail page to make personalized product recommendations under headers like <What about these products?>, <AI recommended products bought by other customers>, <Products that you need to see next analyzed by AI>. Based on the AI analysis and recommendation results, Babathe.com has recommended various products to induce upselling and cross-selling.